日本國立競技場競圖
基本資料

空間配置
3F


上層觀眾席

2F

上層迴廊

1F

下層迴廊

B1F

下層觀眾席 / 貴賓包廂
賽務管理區 / 停車空間

B2F

選手及競賽專用區 / 媒體區
賽務控制區 / 醫療區 / 停車空間
基地配置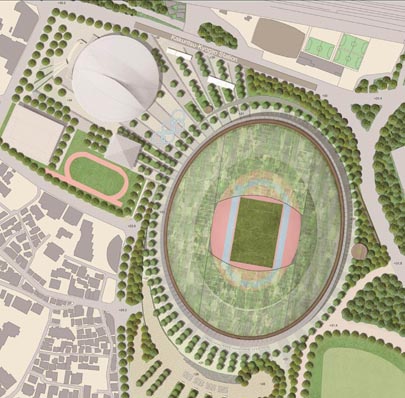 設計理念

The new national stadium situated on an important historical heritage zone requires a subtle yet powerful solution. Many considerations were taken to create this simple and elegant architecture to pay respect to the Meiji parkland, while at the same time aim at hosting world-class games and events such as the
2019 Rugby World Cup and future Olympic and Paralympic Games.
Our design expression is informed by oriental philosophy and contains many hidden layers under the subtle timber façade. Rather than shouting loudly, the design is a quiet structure. It is humble but muscular and very intelligent utilizing biomimicry principles and has only 144 columns to support the suspended superstructure. The design achieves a low carbon footprint by using minimal lightweight materials to achieve maximum structural and environmental effect. These principles extend into the provision of human comfort through advanced passive climate control and a simple and economical operable roof system that allows sunlight to penetrate the entire turf surface, achieving the minimum three hours of
growing time for the grass.
The new public realm is a gently sloping democratic space that the stadium floats over. The building can be opened fully around its perimeter, allowing visitors to walk inside and experience the interior multifunctional concourse. Views are uninterrupted to the sports field below and out to the forest behind. Visitors can even take the external lift to the skywalk and enjoy the views of the city beyond
from the top of the stadium.
We sincerely hope our enthusiasm and passion towards this new century stadium design could spark favorable ideas for the New
National Stadium in Tokyo.
設計發展